KÜNSTLERVEREIN WALKMÜHLE

Ausstellung »ANGST – Krisenindikator oder Überlebenstrieb?«
Exhibition »ANGST - crisis indicator or survival instinct?«

–> Ausstellungs-Webseite / Exhibition website





Künstlerinformation / Artist information (translation below)



Hannelore Weitbrecht

www.hanneloreweitbrecht.de
»Invasion«, 2003-2014

Rauminstallation, Papier, Draht und Farbe, ca. 250 x 350 cm.
Foto: Peter Neumann.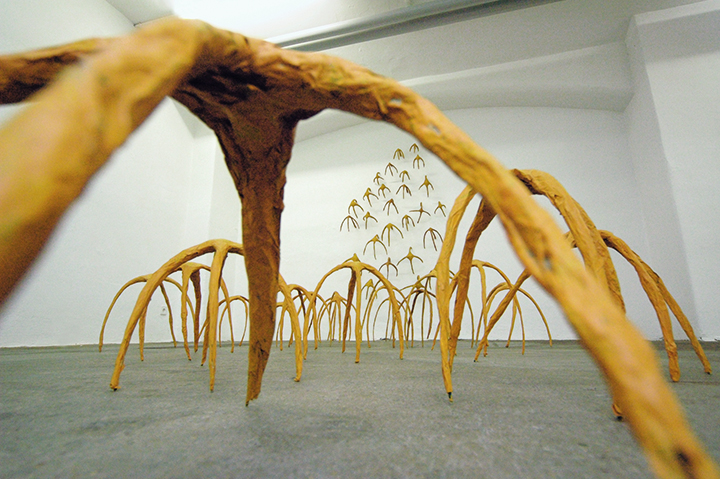 Hannelore Weitbrecht ist eine Künstlerin, die sich Naturformen widmet. Die Formen, die sie aus Papier schafft, sind Samen, Blättern oder Sprossen entlehnt. Sie erstellt Früchte und Kokons, ihr Werk dreht sich um die Schöpfungskraft der Natur. Sie schafft, große, raumfüllende Installationen, die leicht und schwebend daherkommen, manchmal aber auch irritieren können. Für die Walkmühle erzeugt sie mit ihrer Installation ein Bild, das manche Menschen in Panik versetzen könnte: Eine Invasion von Spinnen. Sie krabbeln von der Wand in den Ausstellungsraum hinein. Bei näherer Betrachtung ist zwar schnell klar – es sind abstrakte Formen, die mit vier Beinen ausgestattet sind, statt mit acht. Trotzdem assoziieren wir sie unmittelbar mit dem Urbild von krabbelnden Tieren, die schnell und in großer Zahl auf uns zukommen. Was für den einen vielleicht eher erheiternd wirkt, eine lebendige, ausgreifende Rauminstallation, die mit schlichten Elementen eine ausgerichtete Bewegung suggeriert, mag bei anderen körperlichen Reflexen auslösen, die kaum zu steuern sind. Kleinhirn funkt Flucht. Angst, ja Panik vor Spinnen oder anderen Tieren kann starke Stressreaktionen auslösen. Manch einer mag sie als lebensbedrohlich empfinden, selbst wenn sie von außen betrachtet harmlos erscheint.
Hannelore Weitbrecht is an artist who dedicates herself to natural forms. The forms she creates from paper are borrowed from seeds, leaves or sprouts. She creates fruits and cocoons, her work revolves around the creative power of nature. She creates large, room-filling installations that appear light and floating, but can sometimes also irritate. With her installation, she creates an image for the Walkmühle that could cause some people to panic: an invasion of spiders. They crawl from the wall into the exhibition space. On closer inspection, however, it quickly becomes clear – they are abstract forms equipped with four legs instead of eight. Nevertheless, we associate them directly with the archetype of crawling animals, which approach us quickly and in large numbers. What may be rather exhilarating for some, a lively, expansive spatial installation that uses simple elements to suggest aligned movement, may trigger physical reflexes in others that are almost impossible to control. The cerebellum sparks the flight response. Fear, even panic, in the presence of spiders or other animals can trigger strong stress reactions. Some may consider it life-threatening, even if it seems harmless from the outside.



© Künstlerverein Walkmühle e.V.