KÜNSTLERVEREIN WALKMÜHLE

Ausstellung »ANGST – Krisenindikator oder Überlebenstrieb?«
Exhibition »ANGST - crisis indicator or survival instinct?«

–> Ausstellungs-Webseite / Exhibition website





Künstlerinformation / Artist information (translation below)



Renate Sautermeister (1937-2012)

www.renatesautermeister.de



»Raum XIV«, 1974

Acryl auf Leinwand, 105 x 130 cm.
Foto: Walter Breitinger.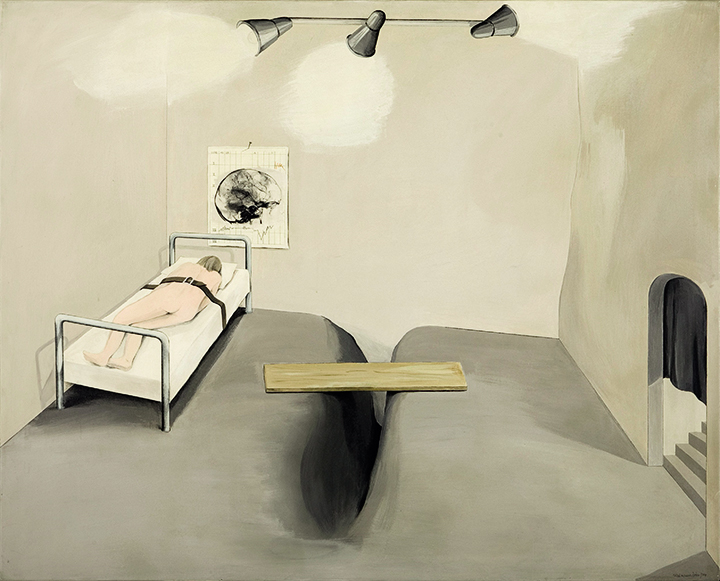 Renate Sautermeister verbildlicht innere Räume. Ihre Gemälde aus den 1970er-Jahren zeigen bühnenartige Tableaus. Die Wände sind mit schwarzen großen Tüchern abgehängt oder scheinen aus nacktem Putz zu bestehen. Wie in einem Puppentheater öffnen sie sich zum Betrachter hin. Karg, nur mit Bett und Stuhl ausgestattet, erinnern sie an Gefängniszellen. Unter einem, mit einem dunkeln Tuch verhüllten Bett, tritt Blut hervor. Auf einem anderen Bild sieht man eine nackte Figur, die ans Bett geschnallt ist. Das Gesicht weggedreht, Scheinwerfer leuchten das Zimmer alptraumartig aus. In der Mitte des Bodes öffnet sich ein tiefer Spalt, ein darüber liegendes Brett wirkt recht wackelig. Die Tücher scheinen beinahe lebendig zu werden, die Räume selbst haben eine Art Körperlichkeit. Surreale Inszenierungen. Lehnen sich diese Zimmer an Psychiatrieerfahrungen an? Sind es Folterkammern? Traumbilder? Sie verdichten die Angst, ausgeliefert zu sein. Eingeschlossen, ohnmächtig.
Renate Sautermeister also depicts interior spaces. Her paintings from the 1970s show stage-like tableaux. The walls are hung with black large cloths or seem to be made of naked plaster. Like in a puppet theatre, they open up to the viewer. Sparse, equipped only with a bed and a chair, they are reminiscent of prison cells. Blood emerges from under a bed covered with a dark cloth. In another picture, you can see a naked figure strapped to the bed. The face turned away, headlights illuminate the room in a nightmarish fashion. A deep gap opens in the middle of the floor; a board lying above it looks quite wobbly. The cloths almost seem to come alive, the rooms themselves possess a kind of physicality. Surreal productions. Are these rooms based on psychiatric experiences? Are they torture chambers? Dream images? They condense the fear of being at the mercy of others. Trapped, powerless.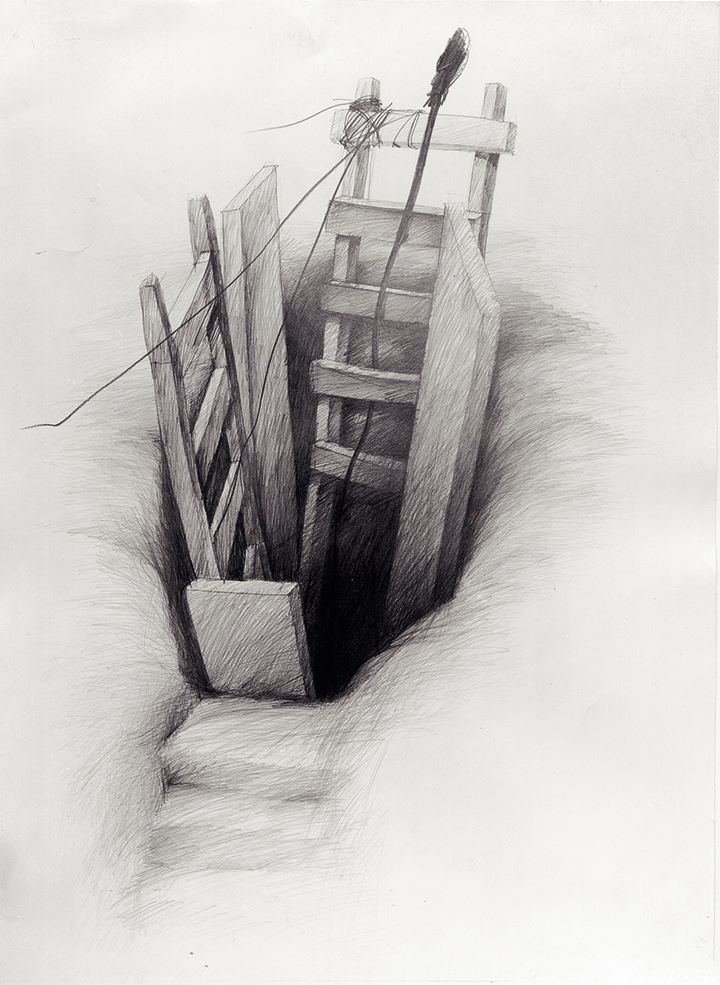 »Schacht mit Leitern«, 1981

Zeichnung, 110 x 75 cm.
Foto: Walter Breitinger.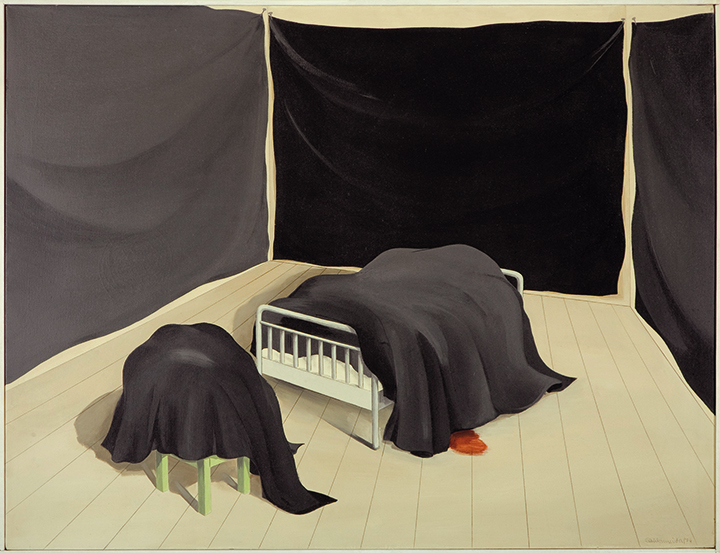 »Raum XIII«, 1974

Acryl auf Leinwand, 100 x 130 cm.
Foto: Walter Breitinger.






© Künstlerverein Walkmühle e.V.