KÜNSTLERVEREIN WALKMÜHLE

Ausstellung »ANGST – Krisenindikator oder Überlebenstrieb?«
Exhibition »ANGST - crisis indicator or survival instinct?«

–> Ausstellungs-Webseite / Exhibition website





Künstlerinformation / Artist information (translation below)



Nina Pohl

Untitled (Vesuvius), 2006

Diasec, 217 x 157 cm.
Courtesy die Künstlerin und Galerie Sprüth Magers, Berlin.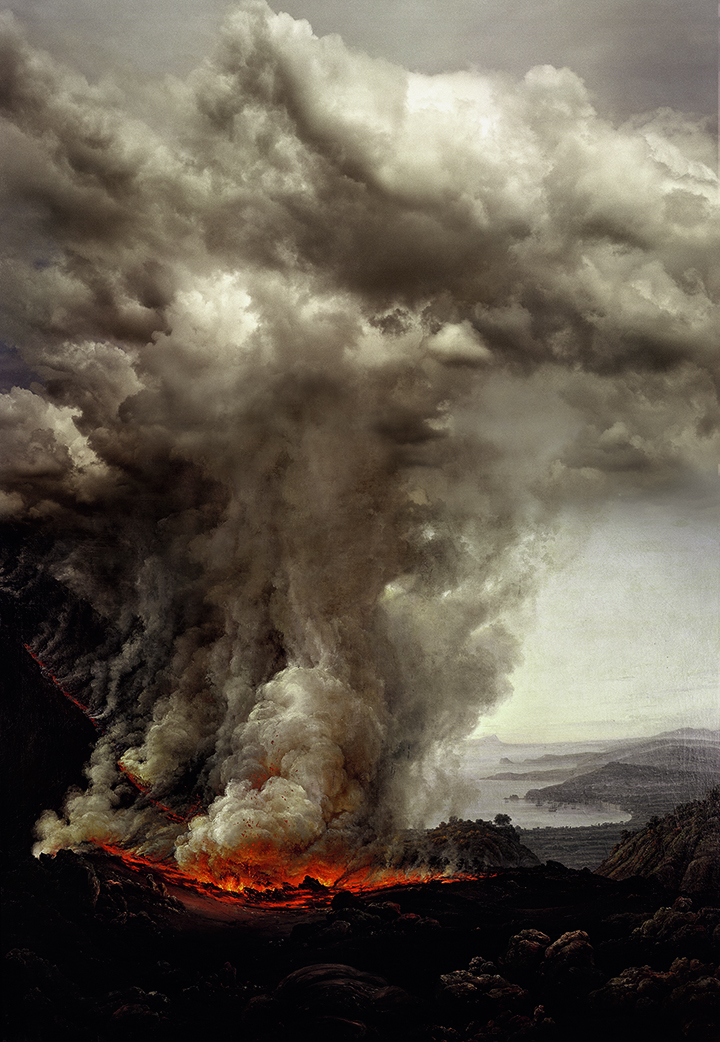 Nina Pohl zeigt einen Ausbruch des Vesuvs, wie ihn der norwegische Künstler Johan Christian Clausen Dahl 1826 in einem Gemälde festgehalten hat. Dieses Bild hängt heute im Städelmuseum in Frankfurt. Der Vesuv war einer der touristisch spannendsten Orte des 19. Jahrhunderts. Man konnte zu Fuß, auf Eseln und später mit einer elektrifizierten Bahn nahe an den Kraterrand herankommen. Das historische Bild aus dem Städelmuseum gleicht dem von Nina Pohl bis aufs Haar – zumindest beinahe. Denn auf dem Original von Christian Dahl sind noch zwei Touristen zu sehen, die dicht neben der Lava stehen und gestikulieren. Ein paar Esel und heimische Führer warten derweil gelangweilt an der Seite. Außerdem ist das Bild ein Querformat, der Blick wird an den spektakulären Rauchwolken vorbei in die Ferne und in die Bucht von Neapel gelenkt. Nina Pohl hat die Figuren entfernt, die Darstellung nach oben erweitert und die oberen Zweidrittel ausschließlich mit Qualm und Wolken gefüllt. Sie verbessert damit das historische Gemälde, formt das Idealbild eines Idealbildes – das sich im Kern um die Faszination von Schauer und Schrecken dreht, gewissermaßen um die Schönheit des Gefährlichen.
Nina Pohl shows an eruption of Vesuvius as captured in a painting by the Norwegian artist Johan Christian Clausen Dahl in 1826. This painting hangs today in the Städel Museum in Frankfurt. Vesuvius was one of the most exciting places for tourists in the 19th century. It was possible to get close to the crater's rim on foot, on donkeys and later on an electrified train. The historical picture from the Städel Museum is a dead ringer for Nina Pohl's - at least almost. For on the original by Christian Dahl, two tourists can still be seen standing close to the lava and gesticulating. Meanwhile, a couple of donkeys and local guides wait bored to the side. Moreover, the picture is a landscape format, the view is directed past the spectacular clouds of smoke into the distance and into the Bay of Naples. Nina Pohl has removed the figures, extended the representation upwards and filled the upper two-thirds exclusively with smoke and clouds. She thus improves the historical painting, forms the ideal image of an ideal image - which at its core revolves around the fascination of chills and terror, in a sense around the beauty of the dangerous.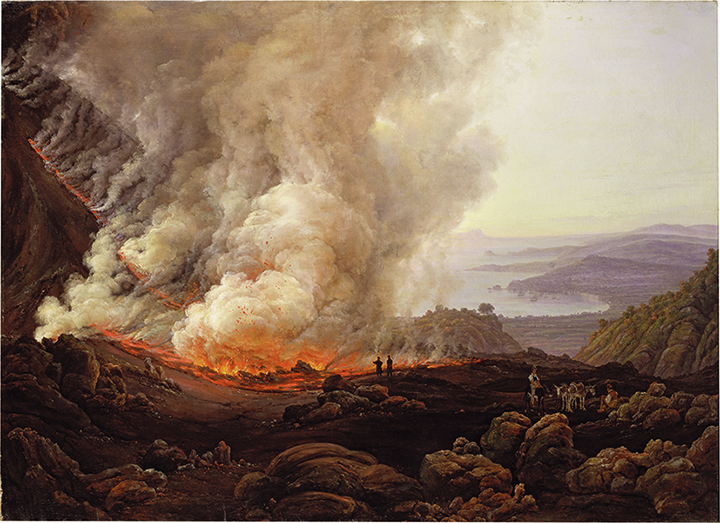 Johan Christian Clausen Dahl: »Der Ausbruch des Vesuv im Dezember 1820«, 1826

Städel Museum, Frankfurt am Main.






© Künstlerverein Walkmühle e.V.