KÜNSTLERVEREIN WALKMÜHLE

Ausstellung »ANGST – Krisenindikator oder Überlebenstrieb?«
Exhibition »ANGST - crisis indicator or survival instinct?«

–> Ausstellungs-Webseite / Exhibition website





Künstlerinformation / Artist information (translation below)



INK

www.ink-finearts.com
»reflejo y reflexión - duende de España I« (Diptychon), 2011

Bleistiftzeichnungen, jeweils 93,6 x 93,3 cm.
Freundliche Leihgabe der Privatsammlung Prof. Dr. Ing. Jürgen und Kristof Erbach. Foto: Olaf Ringel.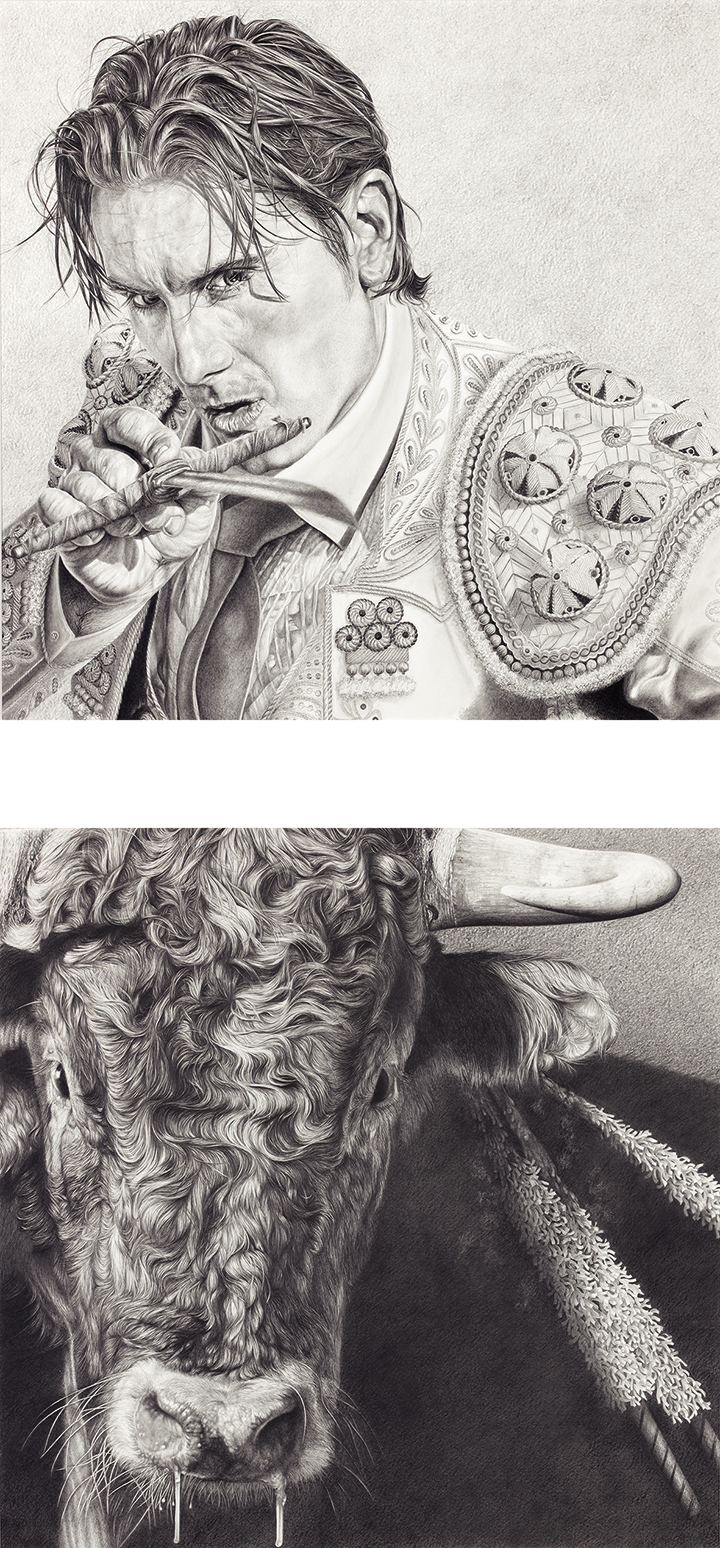 Zeichnerisch delikat kommen die Blätter von INK daher. Mit spitzem Bleistift und fotografisch präzise beschreibt die Künstlerin zwei prächtige Figuren: einen Torero und einen Kampfstier. Minutiös schildert INK Oberflächen: Haare, Haut, Stoff, Fell, Speichel, Licht, Schatten. Die Stickereien auf der Jacke. Weiß und Schwarz werden kontrastierend gegenübergestellt. Hell der Torero, dunkel der Stier. Eindeutig referiert sie auf den spanischen Stierkampf, der in alter Tradition Männlichkeit, Kraft, Schönheit und Tod feiert. Heute, selbst in Spanien, als überkommenes, grausames »Altmännerritual« heftig kritisiert, gilt er immer noch als spanisches Klischee. Der junge Torero blickt dem Betrachter frontal ins Gesicht, schaut aber eigentlich, das ist sofort klar, in die Augen des jungen Stieres. Einer von beiden wird gleich sterben. Der Stier hat eigentlich keine Chance, die Tiere werden in den Arenen am laufenden Band getötet. Nichtsdestotrotz sieht sich der junge Mann einer sehr archaischen Situation gegenüber – das Tier, ein Vielfaches an Masse und Kraft in der unmittelbaren Begegnung, bereit anzugreifen. Während der Stier recht entschlossen dreinblickt, kann man in den Augen des Mannes Vorsicht erkennen – und Angst.
INK's sheets are delicately drawn. With a sharp pencil and photographic precision, the artist describes two magnificent figures: a torero and a fighting bull. INK meticulously depicts surfaces: Hair, skin, fabric, fur, saliva, light, shadow. The embroidery on the jacket. White and black are contrasted. The torero is light, the bull is dark. It clearly refers to Spanish bullfighting, which celebrates masculinity, strength, beauty and death in an ancient tradition. Today, heavily criticised even in Spain as an outdated, cruel »old man ritual«, it is still considered a Spanish cliché. The young torero looks the viewer head-on in the face, but is actually looking, it is immediately clear, into the eyes of the young bull. One of them will soon die. The bull doesn't really stand a chance, the animals are killed in the arenas one after the other, endlessly. Nevertheless, the young man faces a very archaic situation – the animal, many times his mass and strength in the immediate encounter, ready to attack. While the bull looks quite determined, you can see caution in the man's eyes – and fear.



© Künstlerverein Walkmühle e.V.