KÜNSTLERVEREIN WALKMÜHLE

Ausstellung »ANGST – Krisenindikator oder Überlebenstrieb?«
Exhibition »ANGST - crisis indicator or survival instinct?«

–> Ausstellungs-Webseite / Exhibition website





Künstlerinformation / Artist information (translation below)



Daniel Beerstecher

www.danielbeerstecher.de
»Ein Haus gebaut auf Fels«, 2015

Collage, 40 x 60 cm.
Courtesy Galerie Anita Beckers, Frankfurt am Main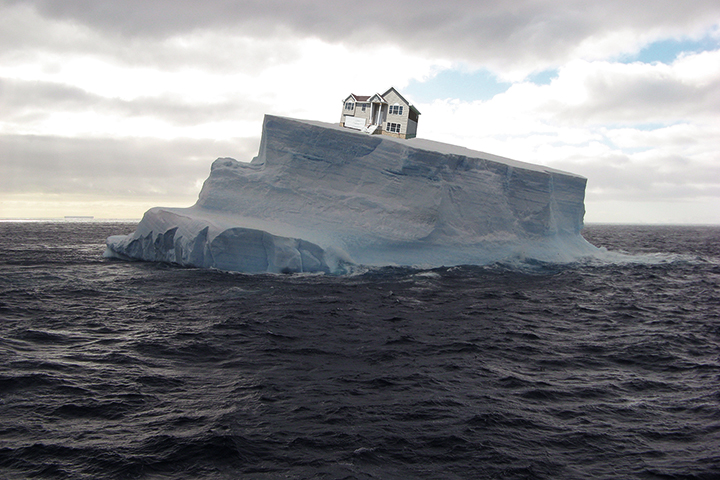 In einer dramatischen Situation befindet sich das Haus, das Daniel Beerstecher zumindest dem Titel nach auf einem Felsen gebaut hat. Denn seine Collage zeigt eben keinen stabilen Grund für das großzügig wirkende Einfamilienhaus. Dieses steht auf einem Eisberg, inmitten des Ozeans. Ein Bild, das anknüpft an das Foto, das vor einigen Jahren durch die Medien gegangen ist und das zeigt, wie ein Eisbär auf einer kleinen Eisscholle über den Ozean treibt. Das Bild wurde zu einer Ikone der Klima-Protestierenden. Aber so erschütternd es ist, man kann es weit von sich weisen, denn Eisbären leben weit weg. Daniel Beerstechers »House built on a rock« aber verweist als Metapher auf die Situation der ganzen Menschheit. Immer deutlicher wird spürbar, wie instabil der Grund ist, auf dem wir stehen. Wie schnell das Eis taut und damit die Gefahr des Untergangs unmittelbar gegeben ist.
The house that Daniel Beerstecher has built on a rock, at least according to the title, is in a dramatic situation. Because his collage does not show a stable foundation for the spacious-looking family home. It stands on an iceberg, in the middle of the ocean. An image that ties in with the photo that was popularised by the media a few years ago showing a polar bear floating across the ocean on a small ice floe. The picture became an icon for climate protestors. But as shocking as it is, you can dismiss it as being far removed from you, because polar bears live far away. Daniel Beerstecher's »House built on a rock«, however, is a metaphor that refers to the situation of humanity as a whole. It is becoming increasingly clear how unstable the ground on which we stand is. How quickly the ice thaws and therefore the danger of sinking is immediate.



© Künstlerverein Walkmühle e.V.